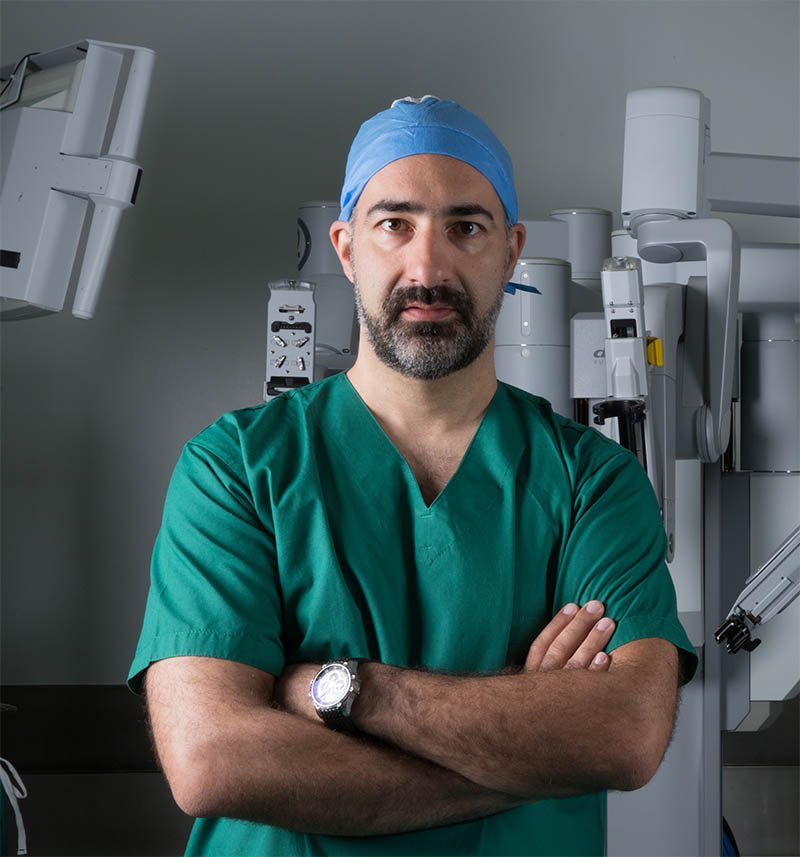 Urologist surgeon
General information
Urologist surgeon Andreas Andreou studied medicine in Paris. He continued on the specialisation and obtained the University title Docteur en Médecine (Doctor of Medicine) and Chef de Clinique (Medical Director). After 3 years of work experience as a Praticien Hospitalier (Hospital Practitioner) specialising in Laparoscopic-Robotic and Minimally Invasive Surgery and after a total of 16 years in France, he returned to Thessaloniki and works there since 2010.
Academic studies and training
Urologist surgeon Andreas Andreou comes from Xanthi. He graduated from the 3rd General High School of Xanthi with a 19.3/20 graduation mark. He studied Medicine in France (Université Necker – Paris V). He obtained the specialty of General Surgery, Urology, Urodynamics and Laparoscopy, as well as his PhD (Hôpital Universitaire de Rouen and Hôpital Foch – Paris V).
As a Urologist surgeon Dr. Andreas Andreou started his specialisation in laparoscopic surgery in 2000 which led to a University Diploma of Laparoscopy from the University of Strasburg in France. In 2001 he started his training in robotic surgery as well, with the first robot worldwide, Aesop, in France. He is by the Intuitive Surgical U.S.A. as a certified Da Vinci Robotic surgeon.
Dr. Andreas Andreou was further trained in the biggest centres of laparoscopy and robotic surgery for prostate cancer like the Foch Hospital (Pr Botto), Bordeaux (Dr Gaston), Montsouris (Pr Vallencien), Creteil (Pr Abbou) in France, as well as the Memorial Sloan-Kettering Centre in New York under professors Guillauneau and Scardino.
In 2005 he trained and carried out therapies for Cancer of the Prostate with HIFU (High Intensity Focused Ultrasound), while in the same year he specialised on the use of laser for prostatic hyperplasia (Green light) and lithiasis (Holmium).
Professional experience
After completing the specialisation he acquired the University title Chef de Clinique (Clinic Director) and he was responsible for the urology clinics of the University Hospital of Rouen and after that, of the University Clinic of Foch Hospital in Paris. He taught urology at the Paris Medical School for 3 years. He was a member of the Transplant Team of Foch Hospital, a centre with 120 transplants annually, of which Mr Andreas Andreou as chief surgeon carried out more than 60 kidney transplants.
He worked for three years as a specialised urologist with the title of Chef de Clinique, and then with the title Praticien Hospitalier at the University urology clinics of Rouen and Foch Hospitals in Paris where as chief surgeon he carried out more than 1.600 procedures and handled especially severe cases, with main specialty the laparoscopic technique. The last 2 years of his stay in France he was also in charge of the urological clinic of Meulan Hospital, an institution cooperating with Foch Hospital. Historically, in 1958 the first total cystectomy was carried out by Maurice Camey in Foch Hospital with the creation of an orthotopic neobladder.
Since his return to Greece, together with his team Dr. Andreas Andreou has carried out the largest number of laparoscopic and robotic procedures in Northern Greece.
Awards
He returned to Greece and he works in Thessaloniki as Urologist surgeon, associating his name with the first in Europe robotic procedure of inguinal lymph node dissection for the treatment of locally advanced cancer of the penis (it was presented at the International Conference of Robotic Surgery in Cyprus), and with the first robotic procedure in Thessaloniki in live broadcast for localised prostate cancer (it was presented as a training seminar at the Macedonian Urology Symposium).
He participated as an expert in a multitude of international and Greek medical conventions, in research studies, international publications and presentations.
He was honoured with the first place for the video presentation of a surgical technique for the Robotic Inguinal Lymph node Dissection at the annual French Conference of the AFU 2014, followed by an article on the presentation of the technique in the official journal of the French Urological Association.
Research
Mr. Andreou was involved in research, presenting the dissertation: Randomized study comparing piroxicam analgesia and tramadol analgesia during outpatient electromagnetic extracorporeal lithotripsy.
He also participated in the research for prostate cancer incidence in Guadeloupe : a French Caribbean Archipelago and he directed as a Co-Investigator two research protocols by Astra-Zeneca for prostate cancer.